Make these delicious and easy desserts, courtesy Swasti Aggarwal, Food Strategist, Foodhall.
Jalebi Panna Cotta
Give your festive dessert a Jalebi updo with this simple recipe.
Cook Time: 30 minutes + chill time
Difficulty: Medium Serves: 2 people
Ingredients
For Jalebi batter
1 cup all purpose flour, 1½ tbsp corn flour, 1½ tbsp gram flour, 2 tbsp ghee (clarified butter), pinch of salt, 1 tsp sugar, 1 tsp yeast, About 1 cup warm water, orange food color (optional)
For the syrup:
1½ cup sugar, 1 cup water, 3 cloves, 2 green cardamom, crushed, Pinch of saffron threads (optional)
Method
Mix half a cup of warm water with sugar and yeast. Stir, cover and let it activate.
In a mixing bowl, whisk all-purpose flour with corn flour, gram flour and salt. Pour ghee and give it a mix. Now, pour the activated yeast and start whisking. Put couple spoons of warm water at a time as you continue making a smooth pancake like batter.
Finally, pour the food color (optional) and give it one last whisk. Cover the bowl and keep it in a warm place for the batter to ferment. It should take about 2 to 3 hours and during that time, do not shake or move the bowl.
Once the batter ferments, make the sugar syrup. In a saucepan, mix everything and let it boil in high heat for about 7 minutes. It should be sticky and not too thick.
To fry the Jalebi, heat enough oil in a flat saucepan. Keep the heat at medium low. Now using either a piping bag/zip lock bag or a squeeze bottle, start squeezing out the batter in hot oil making concentric circles. Do not overcrowd the pan.
Fry until its golden brown. It should take about 5 to 7 minutes. Once done frying, transfer it to the golden syrup and let it swim there for about a minute or two. Then, take it off and put it a serving plate.
Notes:
The batter can also be prepared without yeast. In that case, you have to add sour yogurt to prepare the batter and allow it to rest overnight for it to ferment.
While frying the Jalebi, make sure the oil is at medium low or else the concentric circles will be very difficult to shape up. Also, please remember that making perfect Jalebi spiral is an art that comes with lots of practice.
Chocolate Barfi
Delicious Indian fudge fragranced with cardamom. Rich, chocolatey and indulgent.
Cook Time: 25 minutes
Difficulty: Easy Serves: 20 people
Ingredients
200 ml double cream, 200 g milk powder, 50 g unsalted butter, 10 cardamoms, ground, ½ tsp cardamom powder, 400 ml condensed milk, 120 g cocoa powder, 2 tbsp pistachios roughly crushed (optional)
Method
Line a flat dish with parchment paper.
In a bowl sieve in the milk powder and mix with the cream to make a lumpy dough and set aside.
Heat the butter in a non stick sauce pan and add the cardamom powder. Stir with the heat on low and add the condensed milk and cocoa powder.
Once the cocoa powder has melted add the cream and milk powder mixture. Stir to melt away any lumps. Keep stirring and the mixture will start to leave the sides of the pan. Once this happens put it out on the flat dish and spread it out with the back of your spoon so its about 5-10 cm deep. I like to top with crushed pistachios.
Cool and set in the refrigerator for 2-3 hrs or overnight. Cut into squares and serve.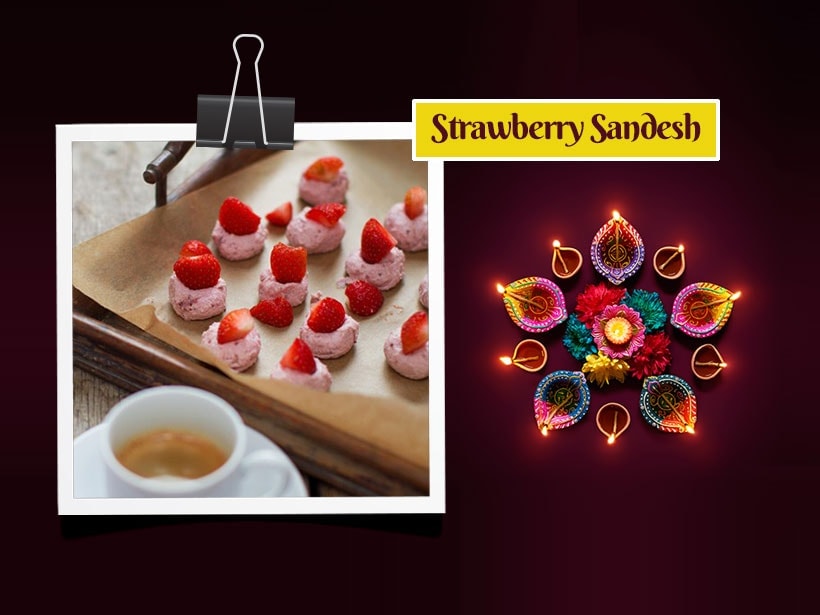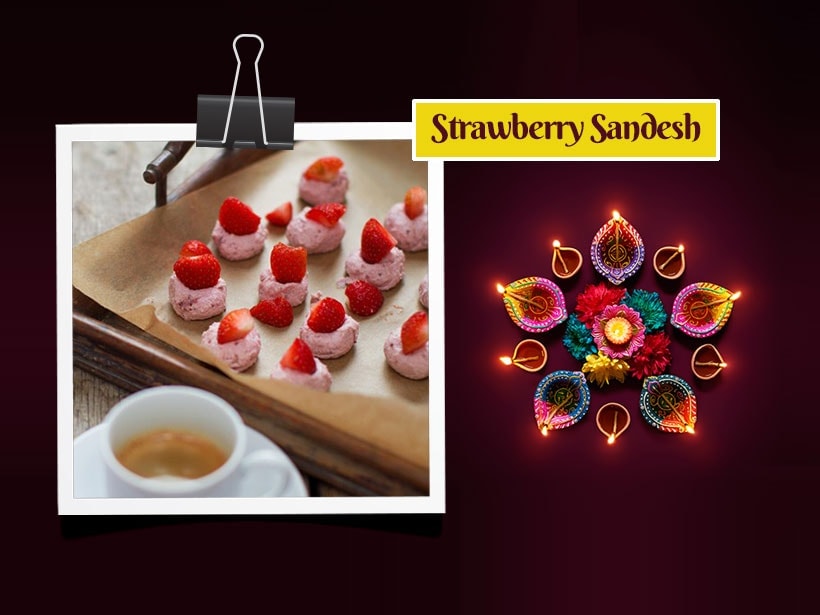 Strawberry Sandesh
A revolutionised version of a traditional Bengali dessert made with curd. You can also make this recipe with orange or banana.
Cook Time: 20 minutes
Difficulty: Easy Serves: 10 people
Ingredients
1ltr full cream milk, 150 g strawberries, 3 tbsp sugar, juice of 1 lemon, 4 tbsp water
Method
Boil the milk in a large pan. As it heats up keep an eye on it and as it comes to the boil remove it from the heat and add in the lemon juice. Stir it gently until it curdles. Leave this for a few minutes while you chop your strawberries (remember to keep a few for the garnish).
Pour the curdled milk through a muslin cloth so that the liquid drains away. If possible hang the muslin for about 10-15 minutes. Place the chopped strawberries into a pan with the sugar and water.
Cook over a low heat, stirring now and again to make a purée. Keep an eye on it so it doesn't stick to the pan.
Once it's thick and sticky (about 10 minutes) remove it from the heat and set aside to cool. Take the curd out of the cloth (it will have a crumbly, spongy feel to it) and place it in a bowl.
Start to knead the curd with your palm and continue until your hand begins to feel oily. Then fold in the strawberry purée with the curd and mix it through.
Cover the bowl with a wet cloth and refrigerate for an hour. Remove the flavoured curd from the fridge and make shapes little balls with your hands.
Garnish each ball with a sliced strawberry. Keep them in the fridge until you are ready to serve.
Note: These should be consumed within 24 hours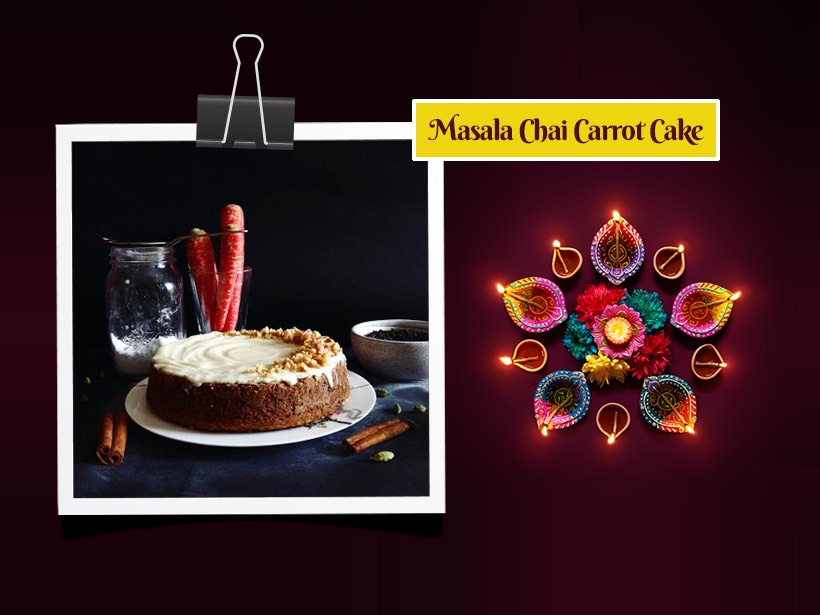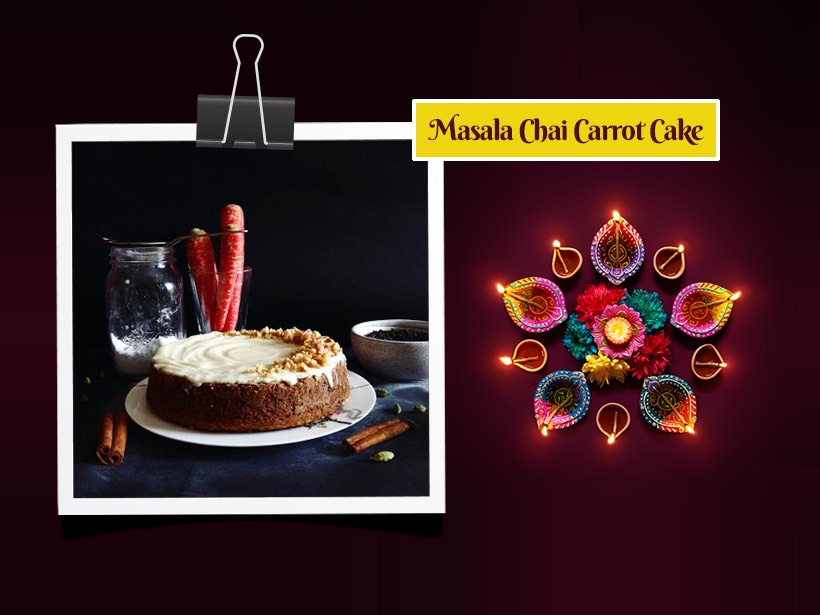 Masala Chai Carrot Cake
Cook Time: 40 minutes + 40 minute bake time
Difficulty: Medium Serves: 8-10 people
Ingredients
For the cake
1/4 cup boiling water, 4 tbsp Assam tea, 2 + 1/2 cup all-purpose flour, 2 tsp baking powder, 1 tsp green cardamom, ground, 500 g carrots, peeled, 1 ½ cups granulated sugar, ½ cup packed light brown sugar, 4 eggs, at room temperature, ½ cup vegetable oil, For the frosting, 227 g cream cheese, softened, 1/2 cup butter, softened, 3 cups icing sugar, sifted, Crushed walnuts, for decoration
Method
For the cake
Pre-heat the oven to 180 degrees C. Butter a nine-inch round cake pan.
Pour boiling water over the tea leaves and let this sit aside for 10 minutes. Strain the tea leaves and reserve the water.
Whisk the flour, baking powder, cinnamon and green cardamom together in a bowl.
In another bowl, beat the granulated sugar, brown sugar, vegetable oil, eggs and tea until combined. Using a spatula fold in the carrots.Fold in the flour mixture and gently mix only until well-combined.
Transfer the batter to the prepared cake pan and bake the cake for about 35 to 40 minutes.
For the frosting
Beat cream cheese and butter until light and fluffy.
Add icing sugar, one cup at a time, mixing well after each addition.
Assembly
Cover the cooled cake with the frosting using an offset spatula and decorate with crushed walnuts.
Source: Read Full Article