Overweight or obese women are at high risk of developing serious health complications during pregnancy. Excessive gestational weight gain can increase the risk of developing diabetes, preeclampsia, and birth defects. However, these complications can be sidestepped by safely restricting gestational weight gain through proper nutritional management.
Image Credit: Moobin / Shutterstock.com
How being overweight or obese can impact pregnancy?
Being overweight (BMI: 25 – 29.9) or obese (BMI: ≥30) can be associated with several risk factors, especially during pregnancy. The major health problems include gestational diabetes, preeclampsia, sleep apnea, and birth defects.
Women with gestational diabetes, as well as their babies, are at high risk of developing type 2 diabetes later in life. It also significantly increases the chance of cesarean delivery. Similarly, preeclampsia, which is defined as having a very high blood pressure, can cause serious health complications, such as liver and kidney failure. It can also lead to seizures (eclampsia) and stroke. The risk of developing preeclampsia can be increased by sleep apnea during pregnancy, which is characterized by interrupted breathing during sleep. Sleep apnea can lead to lung and heart disorders, in addition to causing extreme fatigue.
Obesity can also put the baby at risk. Obese women are at higher risk of miscarriage than normal-weight women. Moreover, obesity is associated with premature birth, stillbirth, prolonged labor, and excessive blood loss after delivery. Another common problem obese women face is having babies with high birth weight (macrosomia). Such babies are more susceptible to become obese in the future. Furthermore, babies born to obese mothers have a higher risk of developing birth defects, including neural tube defects.
How overweight/obese women can have a healthy pregnancy
A high gestational weight gain is the main cause of obesity-related complications. More than 50% of obese women gain weight in excess, which is significantly higher than the existing gestational weight gain guidelines. Apart from pregnancy-related complications, excessive weight gain can increase the risk of postpartum weight retention, which is considered to be the major causative factor for obesity epidemic among women. According to the Institute of Medicine, USA, healthy weight, overweight, and obese women should restrict the gestational weight gain to 11.5 – 16 kg, 7 – 11.5 kg, and 5 – 9 kg, respectively.
The best way to reduce the risk of obesity-related complications during pregnancy is to lose weight before planning for pregnancy. Losing only 5 – 7% of current body weight can be effective for managing a healthy pregnancy. Nevertheless, several guidelines have been developed for overweight/obese women to manage weight gain during pregnancy.
A recent study (Maternal Offspring Metabolics: Family Intervention Trial) involving 281 overweight or obese pregnant women has revealed that proper nutritional management including a healthy diet and active lifestyle can help pregnant women gain less weight during pregnancy, which can be sustained for a longer time.
The women in this study have consumed the 'DASH (Diet Approach to Stopping Hypertension) diet', which mostly comprises vegetables, fruits, nuts, whole grains, fish, and lean meat. The diet is particularly suitable for pregnant women as it contains a higher amount of calcium, potassium, and lean protein.
Regarding physical activity, women have performed moderate exercise daily, such as 30 min of walking. They have also been encouraged to sleep for at least 7 – 9 hours daily to maintain the metabolism at the optimal level.
According to the National Institute of Health and Clinical Excellence, UK, daily meals of pregnant women should include mainly starchy foods, high fiber-rich foods, and a variety of fruits and vegetables. Fried foods and sugar-rich foods should be avoided. Most importantly, dieting or drastic calorie restriction should always be avoided as it can be harmful to the baby.
In order to avoid gestational diabetes outcomes, it is better to consume low glycemic index foods and avoid refined carbohydrates and saturated fats. This can significantly help improve glucose tolerance and overcome insulin resistance. Moreover, consuming foods rich in n-3 polyunsaturated fatty acids during pregnancy is known to reduce the risk of obesity in the child.
Taking supplements, such as folic acid and vitamin D, can also help manage obesity-related complications during pregnancy. For example, folic acid helps reduce the risk of neural tube defects in the baby. Obese women are recommended to take 5 mg of folic acid daily, which should be continued until the 13th weeks of pregnancy. Most of the obese women lack vitamin D. Thus, it is also important to take 10 micrograms of vitamin D daily during pregnancy.
Sources
ACOG. 2016. Obesity and Pregnancy. www.acog.org/Patients/FAQs/Obesity-and-Pregnancy?IsMobileSet=false
Tommy's. 2018. Overweight and Pregnant. www.tommys.org/…/overweight-and-pregnant
Science Daily. 2018. Overweight pregnant women can safely cut calories, restrict weight gain. https://www.sciencedaily.com/releases/2018/09/180924084332.htm
Poston L. 2014. Dietary recommendations for obese pregnant women: current questions and controversies. Acta Obstetricia et Gynecologica Scandinavica. https://obgyn.onlinelibrary.wiley.com/doi/abs/10.1111/aogs.12507
Opie RS. 2016. A behavioral nutrition intervention for obese pregnant women: Effects on diet quality, weight gain and the incidence of gestational diabetes. Australian and New Zealand Journal of Obstetrics and Gynaecology. https://obgyn.onlinelibrary.wiley.com/doi/abs/10.1111/ajo.12474
Further Reading
All Diet Content
Low Calorie and Very Low Calorie Diets
Diabetic Diet
DASH Diet for High Blood Pressure
High Protein Diet
More…
​
Last Updated: Dec 18, 2019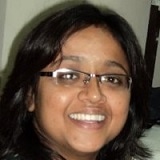 Written by
Dr. Sanchari Sinha Dutta
Dr. Sanchari Sinha Dutta is a science communicator who believes in spreading the power of science in every corner of the world. She has a Bachelor of Science (B.Sc.) degree and a Master's of Science (M.Sc.) in biology and human physiology. Following her Master's degree, Sanchari went on to study a Ph.D. in human physiology. She has authored more than 10 original research articles, all of which have been published in world renowned international journals.
Source: Read Full Article