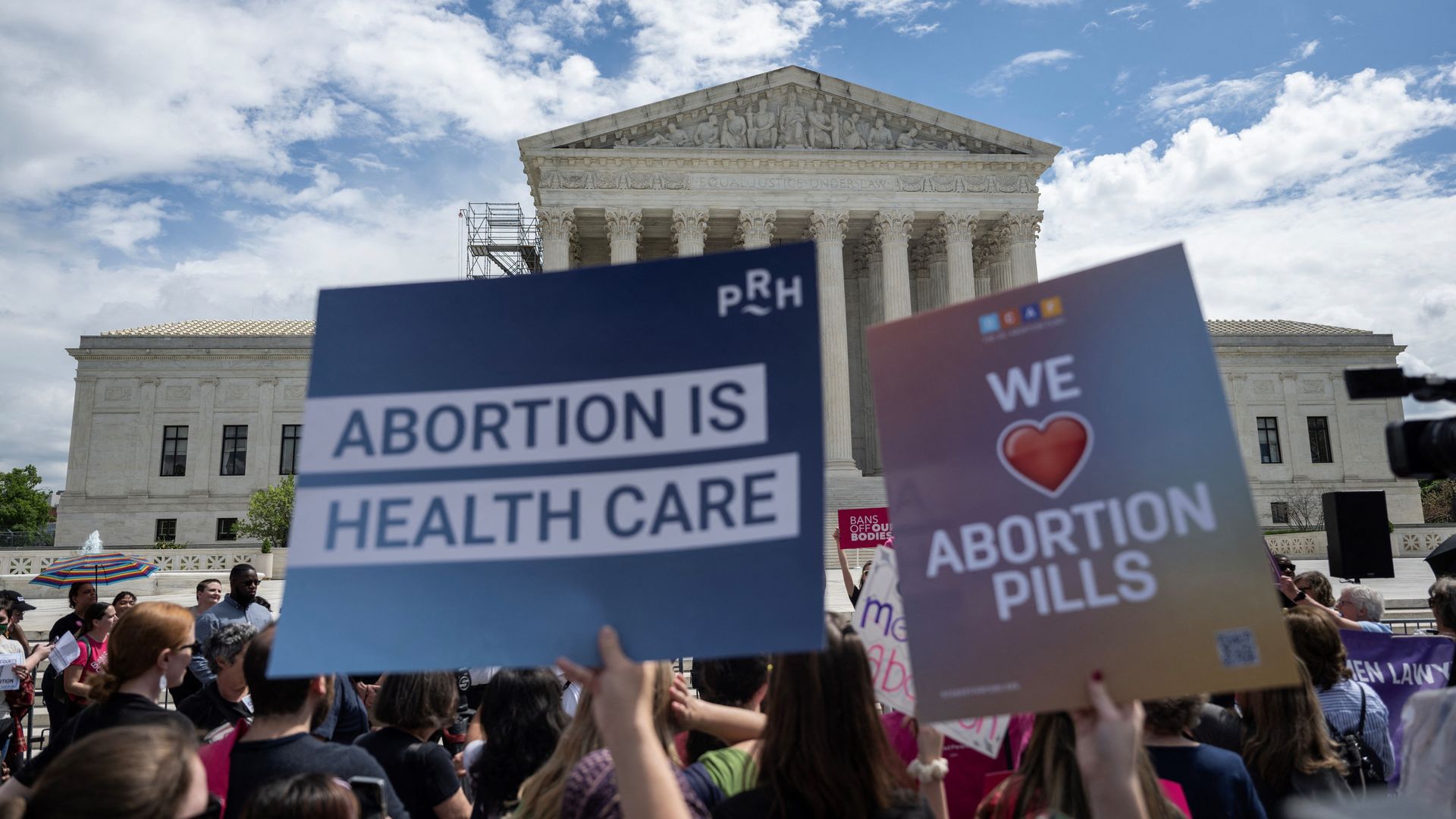 Demonstrators rally in support of abortion rights at the U.S. Supreme Court in Washington, DC, April 15, 2023. Photo: ANDREW CABALLERO-REYNOLDS/AFP via Getty Images
The Supreme Court on Wednesday issued an order extending a freeze on lower court orders that imposed restrictions on a widely used abortion pill in a case that tests the Food and Drug Administration's authority over drug approvals.
Driving the news: Justice Samuel Alito said in an order that the temporary stay they issued last week is extended until Friday, April 21 at 11:59 p.m. while the court continues to evaluate the case.
What this means: Access to mifepristone, used for medication abortion, remains unchanged and the federal restrictions reinstated by the lower courts, which were set to take effect Thursday, will not go into effect at least until Friday.
Alito's order forestalls what would have been an unprecedented court-ordered rollback of FDA powers and, for at least two days, settled a legal standoff arising from conflicting orders issued by separate federal courts on abortion pills.
Catch up fast: Alito last week temporarily blocked lower court rulings that would have reimposed restrictions the FDA had lifted on mifepristone, one of two drugs used in the most common regimen for medication abortion.
The FDA is caught between conflicting federal appeals court rulings that could decide the future of abortion pills in the country: One threatens the agency's approval of mifepristone and adds limitations to the drug's use, while the second blocks the agency from rolling back access to the pill in 17 states and the District of Columbia.
What they're saying: "We are concerned about the potential future impacts of this case," FDA Commissioner Robert Califf said during a Senate Appropriations subcommittee hearing on Wednesday, before the stay was extended.
The FDA is concerned about the effects a ruling restricting mifepristone could have on the well-being of patients, the pharmaceutical industry and "our ability to implement our statutory authority, so the considerations are extensive," Califf added.
When asked if the FDA would commit to following court decisions with respect to mifepristone, Califf said the agency "intends to comply with any court orders."
Don't forget: Last year, in striking down Roe v. Wade, justices argued that the Supreme Court did not have the authority to create a national abortion policy.
Alito wrote in the opinion that the court could not regulate abortion, adding that that power rested with the "people and their elected representatives."
Of note: GenBioPro on Wednesday separately sued the FDA to prevent the generic version of mifepristone from being removed from the market.
Source: Read Full Article