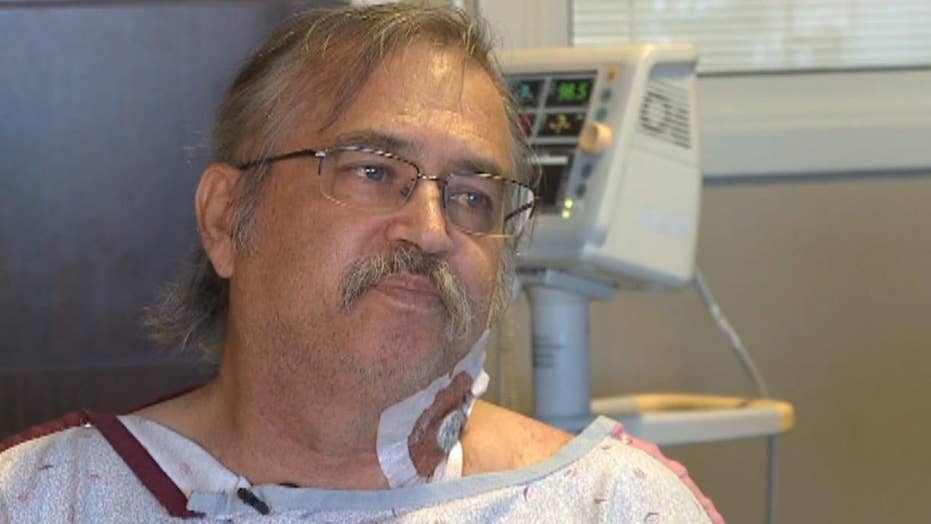 Man credits God with a life-saving transplant
The timing for one man's kidney transplant had to be just right. He credits God for the miraculous events.
A split-second decision during the Thanksgiving holiday saved one man's life.
Bill Casselman, 58, of Kansas City, Mo., has been waiting for a donor kidney to arrive for nearly four years, and after receiving dialysis for eight hours every day, the news came as a bit of a shock.
"All this is was God. One hundred percent," Casselman told Fox 4. "Too many things fell into place all at once for this to be anything other than a miracle."
MOM DONATES LIFESAVING KIDNEY TO SON AFTER SNOWBOARDING FALL LEADS TO SHOCK DIAGNOSIS
Bill and his wife Angela were visiting family in Wichita for Thanksgiving, but the news of an oncoming blizzard forced them to make a decision: stick it out in Wichita or go home early.
But when they arrived home in Northland and received that long-awaited phone call, it seemed too good to be true: a donor kidney had arrived and was ready to go.
"I can't believe this is happening," Bill told his wife as they prepared to leave. "You're on the list finally, and then, two years into that, you're like, 'I'm never going to get a call.' After three years, I was sure I was never going to get a call."
MOM DONATES LIFE-SAVING KIDNEY TO TODDLER SON
The couple had seen many false hopes arise over the past four years, so the transplant didn't seem meant to be until the surgeons went to work on Sunday morning at St. Luke's Hospital.
"You talk about Thanksgiving? This is Thanksgiving, and plenty to give thanks for," Casselman added.
Source: Read Full Article