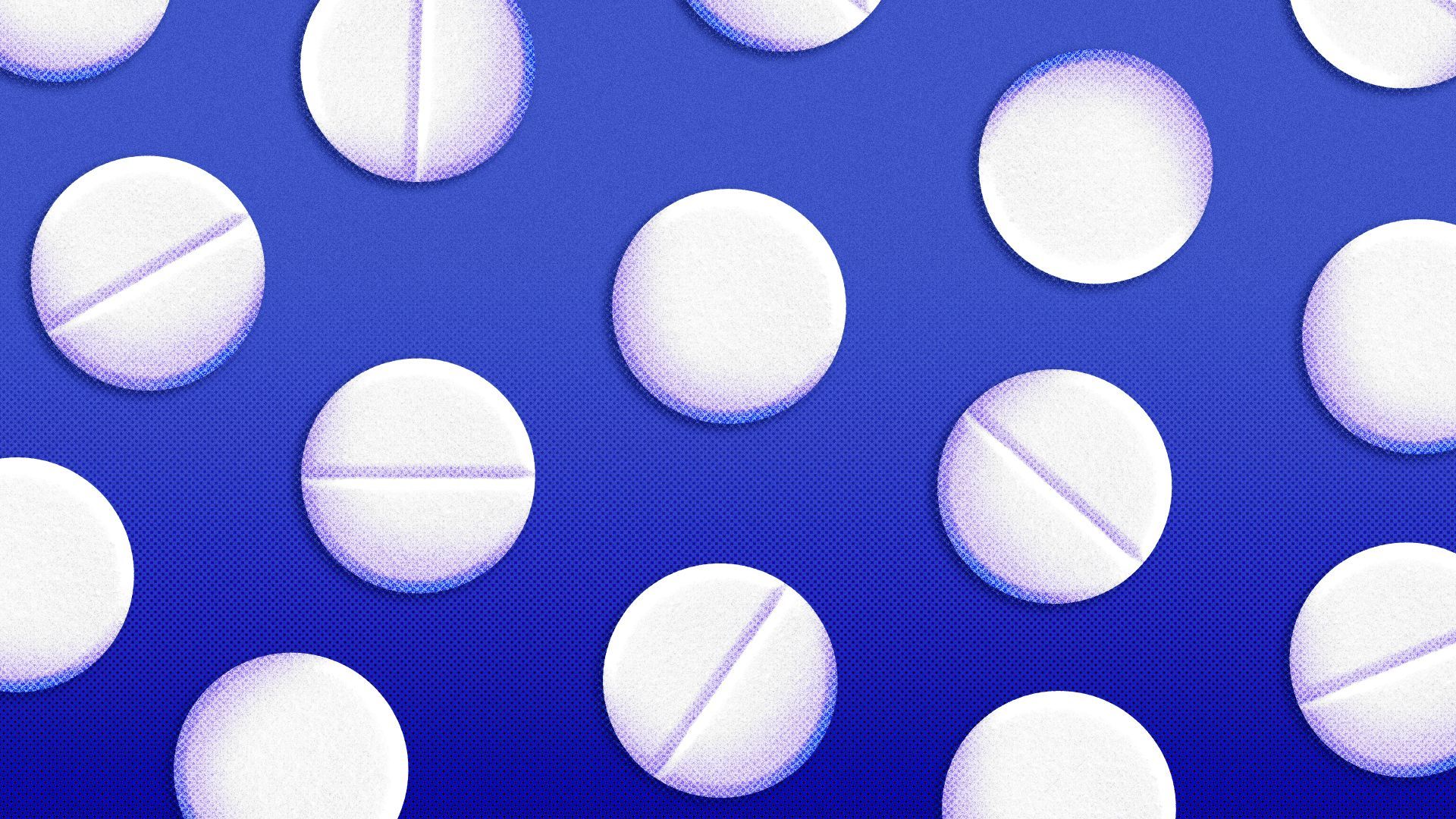 Illustration: Shoshana Gordon/Axios
The high-stakes legal battle over a widely used abortion pill has left some blue states busily stockpiling the medication, in anticipation of a time when it could no longer be easily accessible.
The big picture: At least two states say they are creating reserves of mifepristone to continue enabling access to the two-pill regimen for medication abortion that's at the center of the legal battle. Two others are focusing on the other pill, whose availability isn't threatened, to offer an alternative.
Medication abortion accounts for 54% of abortions in the U.S., and 98% of those used mifepristone, an abortion drug normally used alongside a second pill, misoprostol.
Misoprostol can be used on its own to terminate a pregnancy, but the method is slightly less effective. The combination regimen is considered the gold standard by health providers.
Driving the news: Last week, the Supreme Court temporarily blocked lower court rulings that put restrictions on the use of mifepristone that the Food and Drug Administration had lifted over the years, including a ban on teleprescribing.
Mifepristone is still available without those limitations until at least Wednesday while anti-abortion groups respond.
But courts have yet to settle anti-abortion groups challenge to the FDA's overall authorization, and the case could well wind up at the high court again.
What's happening: The states that have said are stockpiling abortion pills have laws protecting abortion access.
In California, Gov. Gavin Newsom (D) said the state "secured an emergency stockpile" of up to 2 million doses of misoprostol.
Massachusetts Gov. Maura Healey (D) requested the University of Massachusetts purchase around 15,000 doses of mifepristone and has directed individual health providers to do so as well, which the state says will "ensure sufficient coverage … for more than a year."

The state will financially support any provider by paying for the doses.

New York Gov. Kathy Hochul (D) stockpiled 150,000 doses of misoprostol, a projected five-year supply, "to meet anticipated needs."
In Washington state, Gov. Jay Inslee (D) purchased a three-year supply of mifepristone through the state's Department of Corrections, which has a pharmacy license.

Dispensing mifepristone in Washington at the moment is also protected by a separate federal ruling that prohibits the FDA from rolling back access to the drug.

State of play: The Supreme Court could reinstate the restrictions or even scrap the FDA's approval of the drug, which could cut off access in Massachusetts and Washington state.

If the FDA's authorization is revoked, it's possible that providing mifepristone would violate the Food, Drug and Cosmetic Act "because that would cause the introduction of an unapproved drug into interstate commerce," said Delia Deschaine, an attorney at Epstein Becker Green specializing in FDA regulatory matters.
However, the Justice Department is responsible for enforcing federal law and has argued that mifepristone is safe and effective. That makes it unlikely that the federal government would enforce the law against providers or pharmacies that are prescribing or dispensing mifepristone, even if it's technically unapproved, Deschaine added.

Yes, but: States would still be subject to the restrictions if they take effect after Wednesday, particularly the in-person prescribing and dispensing requirement.

There's also the possibility that some providers would hold off providing a drug whose legality is uncertain, fearing possible prosecution.

Zoom in: The availability of mifepristone also depends on which manufacturer provides the drug.

The 5th Circuit Court of Appeals last week ruled that FDA's 2000 approval of the brand name version from Danco Laboratories still stands, but revoked the 2019 approval of the generic version, produced by GenBioPro, which supplies two-thirds of the mifepristone used in the U.S.
It remains unclear where Massachusetts and Washington state acquired their stockpiled mifepristone.

What they're saying: Once the drugs are in the hands of the states, officials there in consultation with state boards of medicine and pharmacy have discretion to find ways to lawfully distribute and allow prescribing, said Susan Lee, an attorney at Goodwin who specializes in the FDA's regulation of drugs and biologics.

Meanwhile, California and New York took a different route and stockpiled misoprostol, which is not targeted in the legal challenge.

"Misoprostol is not the central focus of the ongoing litigation and therefore it's less subject to potentially being enjoined," said Julia Spiegel, Newsom's deputy legal affairs secretary.
Aja Worthy-Davis, a spokesperson for the New York governor's office, said that state officials are "continuing to explore all options" as the situation around mifepristone evolves.
For some health providers "it might be safer for them to resort to [misoprostol] only," Lee told Axios.

Zoom out: The states stockpiling pills are part of the Reproductive Freedom Alliance, whose members respond to measures looking to curtail abortion access.

Newsom's office shared its misoprostol purchase agreement with the members of the coalition, so it's possible that other blue states could follow suit and stockpile abortion pills.

Go deeper: All eyes on SCOTUS for abortion pill ruling

Source: Read Full Article